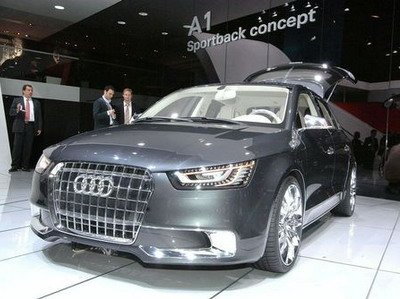 The day before German company Audi, continuing to warm up interest of the public to new model A1, has placed the first video of the compact car at which viewing it is possible to make out partially an interior of the future hatchback of a class "premium" on the Internet.
Audi A1 Sportback Concept
Video it's made on the closed action in which course Audi A1 has been presented football players of the German club "Bavaria" which actives German the companies plans to get in the spring of current year. After small test drive sportsmen have taken out the verdict new Audi A1, having noted excellent controllability and high level of comfort.

The 1,2-l turbo-engine power of 84HP becomes the base engine. "Charged" version Audi S1 will receive system of full drive Quattro and the 2-l 200-strong petrol unit.
Audi A1: cabriolet, universal & crossover
The model debut will take place within the limits of the international Geneva motor show. In sale Audi A1 will arrive in the end of 2010. The hatchback, and a little bit later the company will appear the first in the market will offer buyers the cars executed in updatings: cabriolet, universal and crossover A1. In a base complete set the novelty price will make £13,000.
Related Posts: Audi