At the disposal of British magazine Autocar there were the first images of new model Smart recently presented by company Mercedes-Benz in patent department.
Judging by drawings, the car will receive three-local salon, whose configuration reminds that which was used in known to supercar McLaren F1 — the driver sits on the centre, and armchairs of two passengers are placed behind.

New Smart which, under the preliminary information, will receive name ForThree, it will be offered as sports alternative ForTwo about possibility of transportation of three passengers and less capacious luggage coupe. In a forward part of salon will appear special directing which will allow a driver's armchair to move to doors, will facilitate planting and an exit from the car and will simplify access to seat belts.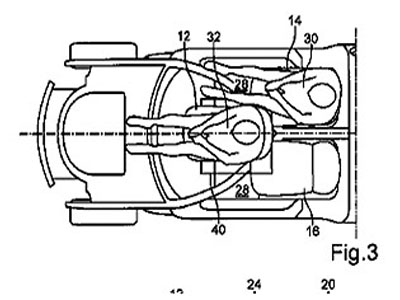 It is expected, that for a novelty the scale of new three-cylinder petrol and diesel engines Mercedes-Benz in volume from 800 cubic centimetres to 1,4 litres will be offered. To be aggregated such motors begin, possibly, with the seven-step robotised transmission with two couplings.

It is expected, that three-local Smart will replace in a modelling number the car with a body "coupe" which has been laid off in 2005. In salons of European dealers ForThree will appear by 2014.
Related Posts: Mercedes-Benz