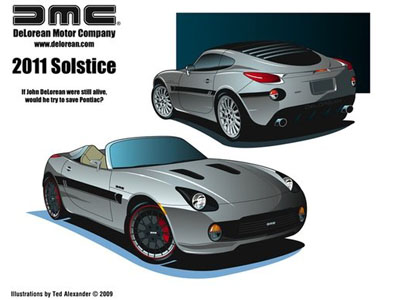 Company DeLorean Motor making in the late seventies of the last century sports cars DMC 12, and nowadays engaged in repair and restoration of these legendary cars, plans to begin manufacture of own version coupe and roadster Pontiac Solstice. About it it is spoken in the message published on an official site of firm.
GM gets rid from Pontiac
Let's notice, that in the middle of current year concern General Motors has informed on the intention to get rid of brand Pontiac and to stop release by the end of 2010.

At present the first drawings with the image of how the version of this car under mark DeLorean can look are published only. Whether In the company yet do not inform it is planned to make any changes to a technical stuffing of model Solstice. However at present the firm has already got rear-wheel compartment Pontiac Solstice GXP for carrying out of tests and detailed study of design. We will notice, that the car in version GXP is equipped with a two-litre turbo-engine power of 260HP.
DeLorean «Pontiac Solstice»
Besides it, management DeLorean also does not exclude possibility of continuation of release "Pontiac" under own brand at factory GM in the city of Wilmington (Delaware, USA).

What investments on the repayment of the enterprise and acquisition of the rights to manufacture of model Solstice be required, at present it's not known.